The approximate outline of team elimination didactic games
By analogy to a nomination No 1 «Do well and fast»
The order of carrying out of elimination games
Registration
Toss-up
Competitions
Coming out of finalists to the competition.
Example:
Nomination «Do well and fast» represents a competition on an ophthalmosurgery which is carried out in the educational operating room, containing 6 "sports equipment". These equipments are microsurgical biosimulators. At registration of 18 participants from one team (student's team) 6 persons can simultaneously participate in competition. It makes three groups according to 6 seats:
18:6 = 3 - three groups.
The first round consists of three stages for 15 minutes each. Taking into account preparation for it the duration will be 1 hour. The toss-up determines the sequence of groups in competition.
2 winners are defined in each group of 6 persons according to the points they got; only 6 persons reach the second round of competition.
The second round consists of one stage of 20 minutes with the participation of 6 persons. 4 persons reach the third round according to the results of the points they got.
The third round consists of one stage of 20 minutes with the participation of 4 persons. 2 persons from one team are selected according to the results of the scored points at the competition. According to the given outline 2 persons reach the final irrespective the number of people who wanted participating in competition (from 18, 20, 40, 50, etc.), number of rounds is accordingly enlarged.
The scheme of carrying out of elimination games for participation in the competition on an ophthalmosurgery.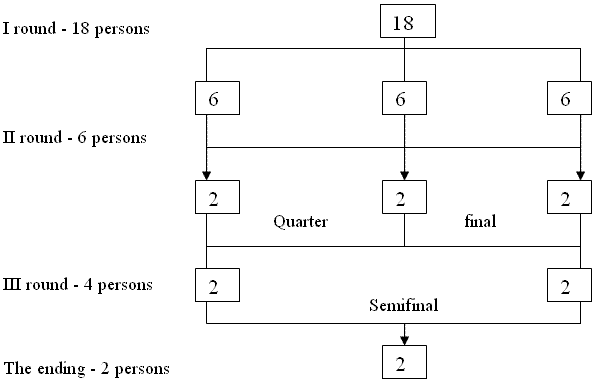 The note: the protocol is conducted for each participant of competitions. Executed exercises are evaluated according to the 12-points system in which basic criteria are the quality estimation, fulfillment technique of microsurgical operation. The protocol is signed by the members of judicial team and handed over to the chairman, after scoring the points winners of rounds and finalists are announced.
[Contents]